NEW RESEARCH HIGHLIGHTS 'TRANSFORMATION' OF B2B MARKETING IN U.S. AND EUROPE
FOR IMMEDIATE RELEASE
June 5, 2023 | 8:30 am EDT

Media Contact:

USA: Bruce Biegel
Senior Managing Partner
Winterberry Group
bruce@winterberrygroup.com

UK and Europe: Charles Ping
Managing Director
Winterberry Group
cping@winterberrygroup.com
-Among findings: digital natives are changing buying behaviors; 'consumerization' of B2B is accelerating; analytics and data utilization improve; AI will have a growing impact on thought leadership, content & creative and the organization; and more-
NEW YORK – Business-to-business (B2B) marketing is undergoing rapid transformation attributable to multiple factors ranging from the emergence of digital natives among buying and selling decision makers, the post-pandemic "consumerization" of business marketing, increased efficiencies in tech investments that are foundational to marketing platforms, and the nascent adoption of artificial intelligence, among other trends, reports Winterberry Group in its newest white paper "Outlook for B2B Marketing – A Market in Transformation (June 2023)."
The paper is the result of surveys conducted with 200 marketers, and more than two dozen agency and analytics professionals immersed in B2B markets across North America and Europe. The paper was preceded by Winterberry Group statistical research, released in January, which shows B2B marketing spending may reach an estimated $53.7 billion this year, for the first time eclipsing pre-pandemic spending of $50.4 billion as measured in 2019.
"This full recovery of B2B spending is not a 'back to usual' moment," said Bruce Biegel, senior managing partner, Winterberry Group, one of the paper's co-authors. "In fact, the COVID-19 pandemic and its aftermath have had a transformative effect on the marketplace, leading businesses to make changes in how they organize, strategize and execute to align sales and marketing, and to drive results."
According to the white paper and Biegel, among the key drivers of transformation are:
B2B buyers are taking their consumer experience to work and "consumerizing B2B" in terms of customer care, user experience, social media, reviews, and brand presence across channels, among other influences.

B2B buyers are

beginning the buying journey online and more often ending in online environments, yet the journey is anything but linear as the journey moves between online and offline interactions. Marketers need to map buying journeys across multiple interaction points, and focus on the measurement of buyer behavior at each point;

Digital natives have elevated into decision-making roles – leading to systemic changes in buying behaviors including how they collaborate within the organization, with peers and leverage social media as part of the decision process;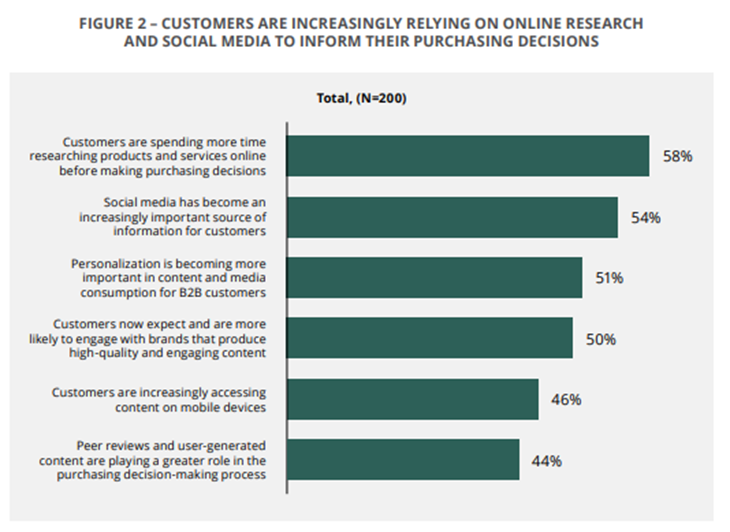 Source: Winterberry Group, Outlook for B2B Marketing – A Market in Transformation, June 2023.
"Content at scale and speed" will be enabled by conversational AI and machine learning to enable versioning and message optimization for efficiency; creative ideas, generated by humans and brand trust will drive marketing effectiveness;
While privacy and data regulations will limit addressability of marketing messages 1:1, the marketplace is rapidly adapting with investment in a data infrastructure that enables the use of metadata, intent, context, and improved analytics in a quest to drive performance;
Tech stack investments will seek to improve utilization by both sales and marketing teams by focusing on organization- and user-defined objectives of what should be done versus what can be done. Thus, tech investments need to be assessed against use cases and objectives, rather than features and capabilities;
While digital marketing spend will grow in total share of the budget, especially in search and paid social – offline spend, led by experiential, will maintain the majority of spend in B2B markets. Invest across the funnel to build a brand over time and drive performance;
The combined impact of the technology, data, and omnichannel integration is going to have a permanent transformation of the organization, initially with an increase of B2C skills crossing over for digital and brand marketing and over time the transformation of the roles within marketing to a more fluid, strategic and omnichannel skill set rather than the silos and "executional" based staffing present today.
The white paper has a corporate sponsor of Anteriad, a global B2B marketing solution provider, and an association sponsor in the Association of National Advertisers (ANA). The research will be discussed in more detail beginning today at ANA's Masters of B2B Marketing Conference in Orlando, FL (June 5-7, 2023).
"In order to reach today's B2B buyer, marketers need to focus on addressing the data concerns that the Winterberry Group has raised in the research," said Rob Sanchez, CEO of Anteriad. "Centralizing marketing data, using their tech stack investments to consolidate insights from digital channels, and analytics to map the new customer journey and to measure attribution, are all actions that should be on every B2B CMOs' shortlist."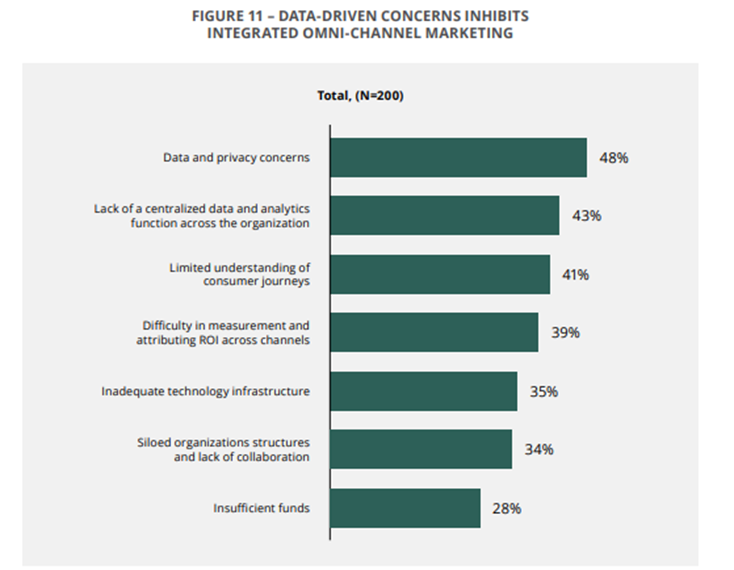 Source: Winterberry Group, Outlook for B2B Marketing – A Market in Transformation, June 2023.
Results of the full study, with an executive summary, are available for download from Winterberry Group here: https://www.winterberrygroup.com/b2b-marketing-outlook-whitepaper-2023
ABOUT WINTERBERRY GROUP
Winterberry Group is a specialized management consultancy with deep experience in advertising, marketing, data, technology, and commerce. Winterberry Group's proven methodologies address the needs of firms in its core advertising and marketing sectors, enabling brands, publishers, marketing service providers, technology companies – and investors in the market to understand emerging opportunities, create actionable strategies and grow their value and global impact. For more information, please visit www.winterberrygroup.com and follow us on Twitter @WinterberryGrp.