INVESTMENT IN CONTENT MANAGEMENT SYSTEMS ARE ENABLING MORE OMNICHANNEL EXPERIENCES BETWEEN BRANDS AND CONSUMERS, SAYS NEW REPORT
Winterberry Group research and white paper explores rapidly evolving Content Management Systems, including evidence-based use cases, considerations, tradeoffs and value in six unique types of CMS platforms
FOR IMMEDIATE RELEASE
October 31, 2023
NEW YORK – The latest evolution of Content Management System (CMS) platforms indicate rapid change to enable consistent, personalized delivery of messaging and content across an array of media and channels, according to a new research report from Winterberry Group "Content Management Systems: The Key to Omnichannel Media Experiences" (October 2023).
"What initially began as a means to manage content for basic web pages has undergone a remarkable transformation, evolving into versatile platforms capable of facilitating and managing diverse digital experiences and offline content," according to the report.
"With so many channels – the need to give audiences consistent content is challenging in itself," said Michael Harrison, managing director, Winterberry Group, who co-authored the new CMS white paper with Charles Ping, managing director, EMEA, and Stephanie Loutsenko, senior engagement manager, both of Winterberry Group. "Thankfully, the technology driving today's state-of-the-art CMS is enabling organizations to adapt."
"We've identified six types of CMS platforms – each with their own considerations for ownership costs, data security and legal compliance concerns, among others," Ping said, all of which are detailed in the 28-page report. The white paper findings are based on survey research of more than 150 experienced US-based decision makers and influencers of CMS tools, from both tech and non-tech backgrounds, as well as in-depth interviews with experts in the field – all conducted from June through August 2023.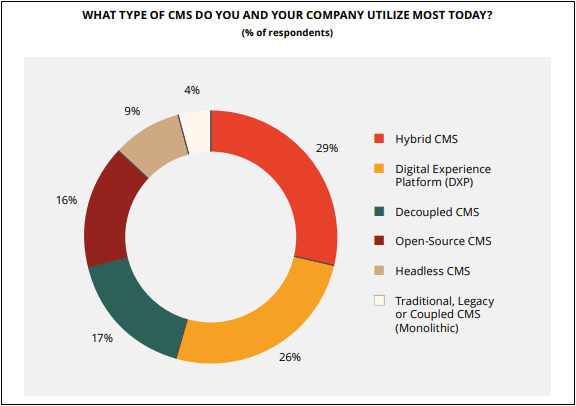 Source: Winterberry Group, Content Management Systems: The Key to Omnichannel Experiences, 2023.
The research identifies four current market forces driving today's CMS platform development: proliferation of channels, omnichannel personalization at scale, growing investment in content, and growth of digital commerce.
Furthermore, the paper investigates newer innovations – such as enriched analytics reporting, artificial intelligence (AI)-powered content creation to support data-driven personalization for customer-facing systems, and CMS tools' ability to "out-of-the-box" integrate with tech stacks and legacy systems – reflecting current desires and priorities of the CMS marketplace.
The paper is sponsored by Brightspot, a leader in CMS technology.
"This research highlights how a content management system should empower evolving business strategies over a long duration, not just a snapshot in time" says Raleigh McClayton, CEO at Brightspot. "Companies must take the time to understand their own content needs so they can select a CMS that has enough sophistication to make their specific digital experiences thrive across multiple channels."
Additionally, the research found:
Among organization users of CMS platforms surveyed in the report, 88% say they use such systems for consistent brand experience across websites; 72% for email; and 64% for digital display advertising;
Online and offline content development consistency is also a driver of CMS investments with numerous challenges cited: legacy technology (47%); dispersed data and content assets (45%) and budgetary/time restraints (44%);
41% of organizations look for CMS platforms that include integrated personalization capabilities, such as content management and deployment, marketing automation and customer relationship functionality; and,
40% of organizations have integrated their CMS platform with their marketing automation or commerce platform, underscoring the need for robust partner integration capabilities of CMS tools.
"Content Management Systems: The Key to Omnichannel Media Experiences," including an executive summary, is available for download from Winterberry Group, via a free registration.
ABOUT WINTERBERRY GROUP
Winterberry Group is a specialized management consultancy that offers more than two decades of experience and deep expertise in the intersecting disciplines of advertising, marketing, data, technology and commerce. Headquartered in New York, WG helps agencies, marketing service providers, technology developers and information companies—plus the financial investors, brands and publishers who support these organizations—understand emerging opportunities, create actionable strategies and grow their impact and value.
For more information, please visit www.winterberrygroup.com and follow us on X (formerly Twitter) @WinterberryGrp.
Media Contact:
Michael Harrison
Managing Partner
Winterberry Group
mharrison@winterberrygroup.com
[Editor's Note: Editorial members of the media may request a full copy of the study by contacting Stephanie Loutsenko, sloutsenko@winterberrygroup.com. Selected charts and figures from the study may be published, sourcing "Winterberry Group, Content Management Systems: The Key to Omnichannel Experiences, 2023."]